Skins (UK)

General Information
Country of
origin:
United Kingdom
Number of
seasons:
7
Number of
episodes:
61
Broadcast Information
Original
Channel:
E4
Premiere:
January 25, 2007
Finale:
August 5, 2013
Chronology
Related
shows:
Skins (US)
Skins is a British teen drama that follows a group of teens in Bristol, South West England, through their two years of Sixth form (equivalent to junior and senior year of high school in the US) at Roundview College.
The show has been considered controversial due to its exploration of issues such as dysfunctional families, mental illness (including eating disorders), sexual orientation identity, substance abuse and death revolving around teenagers.
The show was created by father and son television writers Bryan Elsley and Jamie Brittain for Company Pictures.[1]
The show premiered on E4 on January 25 2007[2] and ended August 5, 2013.[3][4]
The show is known for its casting of amateur young actors and young writers and for entirely replacing the cast every two series, when the characters graduate from sixth form.
Due to the popularity of the show, a movie was planned, and a Skins American adaptation was created by MTV to varying degrees of success, as the movie was eventually shelved while the US adaptation was cancelled after one season.
Characters and Cast
First Generation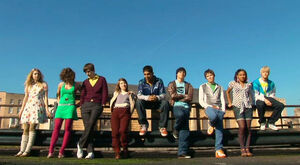 Tony Stonem is an attractive, intelligent and popular boy. His manipulative ways often go unnoticed by many, and are a catalyst for the majority of the events in the series.
Sid Jenkins is Tony's best friend, but has an entirely opposite personality. He lacks confidence, is socially uneasy and struggles with school work.
Michelle Richardson, Tony's girlfriend, a girl who can never stay angry at his mischievous behavior for long. Outwardly, Michelle appears shallow, vain and conceited but she works hard and is emotionally mature.
Cassie Ainsworth, a friend of Michelle an odd girl who suffers from an eating disorder. Cassie attempts to hide her own struggles with mental health while her flamboyant parents ignore her in favor of their new baby.
Chris Miles, is the party animal of the group. He has a difficult home life; he lost his brother to illness at a young age, and is an emancipated minor due to his ambivalent father and absent mother. He has a crush on his psychology teacher Angie (Siwan Morris).
Jal Fazer, is a sensible girl with a talent for playing the clarinet. Her runaway mother has left her to live with her famous musician father and aspiring rapper brothers.
Maxxie Oliver, loves to dance. Unlike most openly gay characters on British television, he is still considered "one of the lads".
Anwar Kharral, is Maxxie best friend, Anwar takes a pick-and-choose approach to Islam, and has no qualms indulging in pre-marital sex, alcohol, and drugs. He has a slightly off-the-wall personality, known for his silly antics and sense of humor.
Sketch, whose real name is Lucy, appears only in the second season, is a quiet Welsh girl who is polite yet unnerving. She is a young carer for her mother Sheila, who suffers from multiple sclerosis.
Effy Stonem, is Tony's younger sister, and shares many of the same qualities as him. She is mysterious and manipulative, but almost mute, she regularly breaks the fourth wall.
Secondary Characters
Abigail Stock, is Tony Stonem's mistress, a posh school girl with sociopathic tendencies.
Posh Kenneth, goes to the same college as the main cast and often found spending time with the boys.
Minor Characters
Besides the main and secondary cast, there were many minor characters that also played a significant part in the character's lives and show's storylines.
Second Generation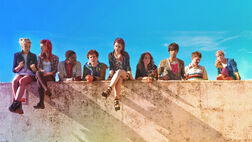 Effy Stonem, Tony's younger sister, returns, now a student at Roundview. Effy is popular, like her brother and also very pretty, but mostly quiet and distant, attempting to keep her own troubles hidden. She is fully aware of her desirability and capacity for manipulative behavior, but feels expressing her own emotions will show weakness.
Pandora Moon, also returns as Effy's best friend, having previously appeared for the first time in "Effy" (episode 2.07). She is innocent to the sexual and narcotic world in which Effy indulges, but is ready and willing to explore it.
Thomas Tomone, is an immigrant from the Congo, with a morally upright outlook and good-hearted nature.
James Cook, Freddie Mclair, and JJ Jones, have been best friends since childhood, known as : " The Three Musketeers ".
Cook is charismatic and sociable, but boisterous and not afraid of authority. His womanizing drives many of the events in the series.
By contrast, Freddie is an easy-going skater who likes to smoke weed, and as the more sensible and responsible friend, he is often put out by Cook's behavior.
JJ Jones, is a boy who suffers from Asperger's Syndrome, and this, makes it difficult to fit in socially, but he has learned to use magic tricks to make friends. His friends view him kindly but with a degree of amusement, and sometimes irritation, but he knows Cook and Freddie will always take care of him. He is the kindest of the three, and by far the least worldly.
Katie and Emily Fitch are two identical twin sisters out, but completely different inside.
Katie thinks of herself as something of a WAG and wants to usurp Effy's place as queen bee of the group.
Katie's homophobia causes problems between herself and Emily, as Emily is coming to terms with her identity as a lesbian. The quieter of the two, Emily is used to being the shadow of her sister, and is sulky but perceptive.
Emily is in love with Naomi Campbell, a fiery, politically-charged and passionate young woman with idealistic views and an abundance of ambition. Emily also has a good friendship with JJ—due to their problems, they feel that they would be good confidants to each other.
Secondary Characters
Karen Mclair, Freddie's sister who is desperate to become famous.
Besides the main and secondary cast, there were many minor characters that also played a significant part in the character's lives and show's storylines.
Third Generation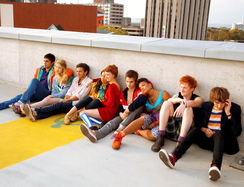 Franky Fitzgerald, is seen as an outsider, having arrived to her first year at Roundview three weeks late upon moving to Bristol from Oxford. She is an intelligent and creative girl, but is seen by others as strange, largely due to her androgynous dress sense.
Alo Creevey, something of an optimist, loves his dog and his van foremost.
Alo best friends, is Rich Hardbeck, a boy from a very middle-class home who immerses himself in heavy metal subculture. He uses musical elitism as a means to cover up his own shyness around, among other things, girls.
Mini McGuinness, Liv Malone, and Grace Violet are three best friends.
By the time Franky arrives, image-conscious Mini has already established herself as Roundview's new "queen bee". She obscures her own insecurities (such as her body image, or her virginity), and is cruel to Franky and others.
Of her two friends, Liv is the most devoted to Mini, and is the more worldly and sexually voracious.
By contrast, Grace -- sweet, kind, and positive in her outlook -- begins to disassociate herself from Mini after seeing Franky's example, and in the first episode establishes a friendship with outsiders Franky, Alo, and Rich.
Grace is later revealed to be the daughter of Principal Blood, as it was decided that when she went to Roundview that she would be referred to as Grace Violet (instead of Grace Blood) in order to keep their connection secret, as he felt that his position would be compromised if it was found out that he had a child attending Roundview.
Mini has a romantic relationship with Nick Levan. Nick popularity makes him something of a status symbol for her, but Mick feelings for Mini are shallow and uncomplicated.
Mick brother, Matty Levan, has strained relationships with his family, engages in criminal behavior, and lives a rough life following an altercation with their father.
Minor Characters
Alex Henley is a character that appears only in the sixth series, Alex is an enigma, simply described as "the mysterious new guy". Unlike most openly gay characters on British television, he is still considered "one of the lads".
The secondary character is Nick's friend Rider, who seems to enjoy coasting through life, both in school and sexually.[5][6]
Besides the main and secondary cast, there were many minor characters that also played a significant part in the character's lives and show's storylines.
Synopsis of the Series
Series 1 & Series 2 (Outset)
Series 1 and 2 focus on the trials and tribulations of the "first generation" of Roundview students: Tony Stonem, Michelle Richardson, Chris Miles, Jal Fazer, Maxxie Oliver, Lucy (commonly known as Sketch), Anwar Kharral, Sid Jenkins, and Cassie Ainsworth. Although not the same age as the Roundview students, Tony's younger sister Effy Stonem still has a strong tie to the main group.
Having become friends before the beginning of Series 1, the first two Series deal with the group's transition into adulthood along with confronting issues such as romantic relationships, familial bonds, substance abuse, religion vs. sexuality, health problems (such as anorexia), pregnancy, and eventually death.
Series 3 & Series 4 (Outset)
With the "first generation" having graduated from Roundview, Series 3 and Series 4 focuses on the "second generation" of Roundview students: Effy Stonem (now a Roundview student), Pandora Moon, Freddie Mclair, James Cook, JJ Jones, Katie Fitch, Emily Fitch, Thomas Tomone, and Naomi Campbell.
The dynamic of the group is quite different than that of the previous two series, as much of the group do not become friends until they attend Roundview, although some did know each other before the beginning of Series 3.
Series 3 and Series 4 deals with the group's transition into adulthood along with confronting issues such as sexual identity, mental illness, substance abuse, romantic entanglements, cultural identity, familial bonds, and eventually death.
Series 5 & Series 6 (Outset)
With the "second generation" having graduated from Roundview, Series 5 and Series 6 focuses on the "third generation" of Roundview students: Franky Fitzgerld, Mini McGuinness, Grace Violet (Blood), Liv Malone, Nick Levan, Alo Creevey, Rich Hardbeck, Matty Levan, and Alex Henley.
Although some did know each other before the beginning of Series 5, the dynamic of the group is different than that of the previous "generations", as there is initally a strong divide between the "popular" crowd (Mini, Nick, Liv, and Grace), the "outsiders" (Franky, Alo, and Rich). Matty and Alex are initially enigmas, as they didn't appear to be in either of the groups. However, as the Series progresses both groups eventually mesh into one large group, as everyone slowly starts becoming friends.
Series 5 and Series 6 deals with the group's transition into adulthood along with confronting issues such as compromising self to fit in vs. staying true to oneself, sexual identity, pregnancy, substance abuse, romantic entanglements, health problems (such as eating disorders), familial bonds, sexual pressures, accepting responsibility and social identity, and eventually death.
Series 7 (Outset)
Changing focus from Roundview to life as a young adult, the Seventh Series focuses on returning characters Effy Stonem, James Cook, and Cassie Ainsworth and their struggles dealing with life after Roundview. Help for Effy comes in the form of returning characters Naomi Campbell and Emily Fitch.
The End of the Show and His Future
On March 8 2012, websites began reporting that an insider at E4 claimed the show had been cancelled, stating that "We think Skins has gone as far as we can take it but we know fans will be disappointed..." while implying that there would be a wrap-up special of some sort after the completion of Series 6.[7]
Soon after the news broke, a spokesperson for the show denied that the show has been cancelled and stated that an announcement on the future of Skins is expected later.[8]
However, later that day The Guardian (along with more reputable sources) reported that instead of E4 cancelling the show, a mutual decision between both E4 and the show's creators was made to end the show in 2013.[9]
Later that day the Skins official Twitter confirmed the show's upcoming end in 2013 and also confirmed that E4 will air what will be considered the show's "seventh series", consisting of three 2-hour episode specials (with each episode focusing on a specific generation).[10]
On October 16, 2012, E4 officially revealed that the final Series is slated to air Spring 2013, and confirmed the episode titles for the last three episodes of the show and who they will focus on: "Fire" will focus on Effy, "Rise" will focus on Cook, and "Pure" will focus on Cassie.[11]
They also confirmed that Emily and Naomi will return for "Fire".[12]
It was also confirmed that the third generation will not be included because it was thought that all the character's storylines had reached a natural conclusion at the end of the Sixth Series.[13]
Legacy
Days after the news broke about the show coming to an end, a few sites wrote retrospective articles about the show.
Channel 4 (the parent company of E4) released a statement, stating: "Skins is a brilliant show which has defined a generation and will go down as a truly iconic, game-changing piece of television."[14]
The Guardian concluded: "The fact that Skins ran out of steam shouldn't overshadow its successes. There have been many. Its removed some of the stigma around mental health issues, its never been patronising or moralistic around drink and drugs, it helped kick some of the stigma around sexuality and a remake of the show led to America being absolutely freaking horrified."[15]
As the Sixth Series ended, a few sites began to focus on the upcoming final Series (and subsequent end) of the show.
DenofGeek concluded: "To be handed something so final, confident and hopeful is what long-time fans also deserve, and this, in lots of ways, summarises what Skins wanted to do in the first place. Your teenage years are painful, visceral, and bewildering, but they're also some of the best times of your life."[16]
As the first episode of the final series aired, a few sites began to write about the impact and legacy of the show.
MetroUK concluded: "Without the criticism and speculation of party influences via the show, Skins has to be applauded for its witty writing and talented cast of stars. Without the show Nicholas Hoult, Dev Patel and Kaya Scodelario (who returns for the final series) may never have gone on to achieve Hollywood success as Skins provided them with a great basis of getting to grips with acting in front of the cameras.
With dwindling resources in the UK talent front, the show will be missed for being a talent pool for rising talent alone – and must be championed for the fresh faces it has provided over its seven series run."[17]
After the final episode of Skins aired, many sites wrote about the legacy the show would leave behind.
TheGuardian.com concluded: "So with a mixed bag of episodes, the question remains whether Skins should have been revived or left its legacy within the confines of the original show. It appears the creators were out to make a point that this wasn't just a programme about mephedrone and house parties, but a drama about characters and their ability (or lack thereof) to make something of their lives. The fact that so many were distraught at the demise of Naomi and Emily's relationship [in Skins: Fire], is a testament to the power of that storytelling, and proves that it was not just our own teenage immaturity that made us believe in them. There were bum notes this series, for sure. But Skins leaves our screens not as a passe prefix for youthful excess, but making a claim to be a great British drama. To find out whether it succeeded, you'll have to see whether the gifs are still rolling in years from now.[18]
The Telegraph concluded that "Skins, E4's teen drama, was on the verge of outstaying its welcome, but in the end it departed with grace. This was a smart exit for a show that deserved one. Skins changed the television landscape with choices that were so prescient – and now so universally adopted – that we can forget to credit its originality. Firstly, it revolutionised the way programmes could lure a younger audience with social media, Secondly, the writing raised the bar for shows that depicted, and tried to appeal to, young adults, and lastly, the genius of Skins was the delicate path it trod between the real and the aspirational. Skins appears only to have influenced television for the better, rather than adolescents for the worse."[19]
Film
American adaptation
Production
Writing
The show's writing team has an average age of 21, and includes several "teenage consultants". The series co-producer Bryan Elsley said, "It's all about the writing. [...] We're about letting our audience feel they are not alone. [...] We're always having people miss [writing] meetings because they've got A-levels or even GCSEs".[20]
Bryan Elsley also revealed through his E4 blog after the conclusion of Series 4 that he would work in a limited capacity for the show as he decided to helm the US adaptation.[21] However, due to the US adaptation being canceled, he returned as showrunner executive producer, and writer for the UK show.[22]
On April 2, 2011, co-creator and executive producer Jaime Brittain announced after five years of writing and helming Skins, he has decided to stop working on the show.[23][24]
Filming
The show is filmed almost entirely in Bristol; scenes at Roundview College were shot at Henbury School for series four, having formerly been set at the John Cabot Academy and the Filton College's WISE Campus.[25] Multiple scenes are located around College Green, Bristol.[26] Special locations for individual episodes have included the Gower Peninsula, Sharpness Docks, the University of Exeter and New York City. The series was shot entirely in High Definition, using Sony HDW-750P cameras for the first two series, and Sony HDW-F900R thereafter, both supplied by Panavision.[27] It was edited at BBC Studios and Post Production in Bristol, using Autodesk Lustre and Autodesk Smoke.[28]
Online content
A variety of online content have been released on the official Skins website, including character profiles, video diaries, and Unseen Skins mini-episodes that interweave with every aired episode.[29]
In addition to character profiles on the official E4 website, accounts for the lead Skins characters are maintained on popular social networking websites MySpace, Facebook, and Twitter.
There is also an official Skins Internet bot for Windows Live Messenger, which allows users to receive automated messages throughout the airing of each episode with music credits, trivia, and behind-the-scenes gossip.[30]
Beginning with Series 6, Skins: Lock In was released. Functioning similar to Unseen Skins, they are a series of canonical online-exclusive multimedia mini-episodes that are used to add extra exposition on both the episodes and the Series they pertain to.[31]
Awards
The show won the Best Drama prize at the 2008 Rose d'Or ceremony,[32] and also won the Best Production Design (Drama) for Amelia Shankland's work on "Cassie", at the Royal Television Society Awards 2007, in addition to being nominated for Best Photography (Drama). Tal Rosner's graphics for Skins won a BAFTA for Best Title Sequence at the British Academy Television Craft Awards in May 2008.[33]
In March 2008 the show was nominated for Best Drama Series in the British Academy Television Awards 2008.[34] The show's innovative marketing was awarded Best Advertising Campaign at the MediaGuardian Awards for Innovation in 2008.[35] The viral marketing preluding the second series won the Entertainment category at the Interactive Marketing and Advertising Awards 2008.[36]
Skins won the Philips Audience Award at the BAFTAs 2009. The series Director of Photography, Nick Dance has been nominated for a BAFTA and an RTS Award for Photography and Lighting for his work on the series.
In 2010, Skins was nominated for a GLAAD Media Award for "Outstanding Drama Series" during the 21st GLAAD Media Awards.[37]
In 2011, the series won Best TV Show at the NME Awards 2011.[38]
Cultural influence
The show has given rise to the term 'skins party', referring to a debauched night of heavy drinking and recreational drug use.[39]
During the 2007 Easter holiday a girl in County Durham threw a house party; it was advertised on her MySpace profile as a "Skins Unofficial Party," referring to the party in the first series' trailer, with the subtitle "Let's trash the average family-sized house disco party". 200 people turned up, breaking into the house and causing over £20,000 of seemingly deliberate damage. She alleges that her account was hacked and someone else placed the ad.[40][41]
Similar incidents have taken place in the Republic of Ireland, with major household damage and theft of personal property being reported in Firhouse and Foxrock. Although these attacks have not been conclusively linked to the show, news outlets have reported that they are called Skins parties.[42]
Club nights marketed as 'Skins Secret Parties' have also taken shape in Leicester and Brighton.[43]
Following this, an annual series of parties began to be run by Company Pictures beginning from 2008, always held about a few months before the premiere of an upcoming Series.[44]
DVD releases
Other media
In September 2009, Company Pictures announced that the Skins brand has been licensed to Crystal Entertainment.[45] The firm is to help creator Bryan Elsley expand the brand into areas such as film, fashion and music. They described Skins as "the most authentic teen brand on TV".
As of 2012, the Skins franchise consists of the tv series, novel, soundtracks, official online content, official parties, and an American adaptation of the tv series.
Post Skins Connections
After leaving Skins, several actors have worked in non Skins related projects with others connected to the Skins-verse .
Between 2007-2011, both Juliet Cowan (Cecila Jones) and Lily Loveless (Naomi) appeared in a BBC Children's TV Show "The Sarah Jane Adventures" but had no scenes together.
In 2009, April Pearson (Michelle) and Larissa Wilson (Jal) appeared together in the horror film Tormented, again playing best friends.
In 2010, Nicholas Hoult (Tony) and Kaya Scodelario (Effy) appeared in the fantasy action remake of Clash of the Titans, although they did not share any scenes.
In 2011, Daniel Kaluuya (Posh Kenneth and writer), Joe Dempsie (Chris), and Lily Loveless (Naomi) appeared together in Jack Thorne (writer)'s supernatural drama The Fades.
In 2012 and 2013, Hannah Murray (Cassie) and Joe Dempsie (Chris) appeared in the second and third seasons of Game of Thrones, although they did not share any scenes.
In 2013, Kaya Scodelario (Effy) and Joe Dempsie (Chris) will appear in Channel 4's four-part drama Southcliffe.[46]
References
External links