We're Getting Mutants in the MCU - The Loop
Play Sound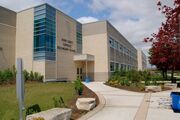 Roundview College is the school that all the main characters in Skins go to. It is located in Bristol, South West England and gives instruction of the two years of sixth form (equivalent of junior and senior year of high school in North America).
The school that functions as Roundview is actually John Cabot Academy, which is located in Bristol. It teaches all secondary school levels, not just sixth form (as Roundview does).[1]
Profile
Roundview college is tremendously problematic and troubled. With almost constant reductions in budgets and funding, the college staff have been forced to make numerous difficult decisions to keep the college alive, from eliminating study leaves to getting students to get high academic grades to keep the college alive. 
Members of the Staff during the "First Generation"
Angie (Siwan Morris): Angie is a psychology teacher at the college who has shown an affection for Chris. She began sleeping with him during the trip to Russia, but is ashamed of the relationship. In the Series 1 finale, Chris finds out that she has an estranged fiancé. It is made clear that the relationship will not develop further as she has departed from the college by Series 2, although her farewell note to her college class fondly recollects "monkey man" (Chris) and his "spaghetti". She then reappears in Series 2, Episode 5 looking for a flat at Chris's agency. He finds her a flat to live in but ends up having sex with him during a party at his place, much to Jal's dismay and Chris's guilt. She understands, however, that things have changed, and agrees to leave Chris alone to be with Jal.

Tom Barkley

(Robert Wilfort): Tom is a history teacher at the college who sometimes struggles to empathise with his young students with his view on their 'lingo', which he frequently attempts to emulate, with cringeworthy results. He harbours an affection for Angie, and gave Sid a second chance after he fails his year (Sid is given two days to rewrite his dissertation, and succeeds). While accompanying the college history trip to Russia, he takes great pride in being the tour leader, although his organisational and communication skills (not helped by his appalling grasp of the Russian language) are shown to be dire.
Doug (Giles Thomas): Doug is a teacher at the college. He passed on a complaint to Claire about her foul mouth, but later slept with her. He has since appeared taking over the school's production of "Osama: The Musical" after Bruce Gelcart was fired. He appears to teach Biology but substitutes Angie in Psychology when she doesn't return. He dances with Cassie and Claire.

Bruce Gelcart

(Shane Richie): Bruce is the college drama teacher, and writer and director of the school production of "Osama: The Musical". He is an exceedingly arrogant and flamboyant man. He displays an overt lust for Michelle, who is cast in the lead role in the musical, at one stage forcibly snogging her in a rehearsal as a demonstration to the homosexual Maxxie (in the male lead role) of how it is done. He refuses to cast lighting assistant Sketch in Michelle's role on the basis that Sketch is not attractive enough (interestingly, Maxxie also considers her a 5/10 in terms of beauty). Bruce is sacked after Sketch falsely claims that he sexually molested her, one of a long line of complete lies told by Sketch, who subsequently schemes her way into playing Michelle's role anyway, Sketch's mother finds out about this, but was later tied to the bed by Sketch, so it was unknown if Bruce was given his job back.

Marnie

(Wendy Brierley): Marnie is a lunch lady at the college who believes that Jamie Oliver is a "smartarse blonde fucker" for inciting changes in the school's lunch program.

Josie

(Josie Long): Josie is the Careers Advisor at the college. She first appeared in the Unseen Skins, and also appeared in Chris' episode in Season 2, and can be seen with the rest of the cast at Chris's funeral, in the last episode of Season 2. Josie Long is also a writer for the series.

Claire

(Pooky Quesnel): Claire is the constantly-swearing music teacher who conducts the orchestra which Jal plays in. She is later seen having sex with Doug at the end of the episode
Members of the Staff during the "Second Generation"
Doug (Giles Thomas)
Harriet (Victoria Wicks): Head Of Roundview College in series 3. Appears to have "moved on" in Series 4, being replaced by David.
Kieran MacFoeinaiugh (Ardal O'Hanlon): Kieran is the group's politics teacher, who has long since lost his passion for the job; he repeatedly declares that he hates teaching, and the college has made attempts to send him on a variety of motivational courses. He forms a close friendship with Naomi, which is strained when he attempts to kiss her; after that, he visits her house to apologise and ends up in bed with her mother. Naomi is initially horrified, but ultimately she encourages him to pursue a relationship with her.
Josie (Josie Long): Former Head Of Guidance and Careers Advisor in Series 2,Josie seems to have switched jobs in Series 3, and is now teaching English. Later in Series 4, during Fredddie's episode, T.Love takes her place in Guidance, as he says Josie has had "a small breakdown".
David Blood (Chris Addison): The new Director of Roundview College, replacing Harriet as of the start of series 4.[2]
T.Love (Will Young): Somewhat peculiar student advisor, who has a strange addiction to Michael Jackson.
Members of the Staff during the "Third Generation"
Doug (Giles Thomas)
David Blood (Chris Addison): The new Director of Roundview College, who is also seen teaching P.E.
Alan Precopp (Gordon Kennedy): English Teacher
Simon Sweetcheeks (Crispin Harris): The college's music teacher
Josie (Josie Long): Josie returns in first episode of series 6, as a guidance counsellor.
References