The Cook-Pandora Relationship is the romantic pairing between James Cook and Pandora Moon.
Their relationship is sometimes referred by the the fan-given nickname Candora (taken from Cook and Pandora).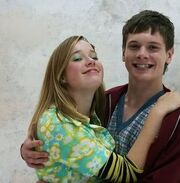 Relationship History
Series 3
In "Cook" Cook asks her if she wants to have sex, and although she thinks he's "beautiful", Pandora declines.
In "Pandora," After everyone leaves her pajama party, she discovers Cook rummaging through leftover alcohol, and reveals her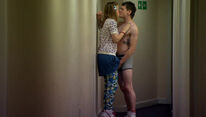 disappointment regarding the party. When Cook asks her how to play Twister, she teaches him and the two have a fairly enjoyable time, but eventually their innocent encounter turns sexual when Cook offers to "teach" her about sex. The next morning Effy goes to Pandora's house to apologize about the previous night, but is shocked to see Pandora kissing Cook as he departs, and they soon have a confrontation.
Later on, in JJ's episode, when JJ visits Cook , he see's Pandora leaving Cook's dorm. Cook reveals later on that they've been having an affair since Pandora's episode.
In "Effy", Pandora wonders why Thomas seems to be acting distant from her. Later, when an uninvited Cook crashes their camping trip, he reveals to everyone that he has been sleeping with Pandora. When she tries to tell Thomas that Cook is lying, he yells at her, telling her he already knew.
Series 4
Pandora sees that Cook's date had called the cops on the party at Naomi's house in retaliation for a fight with Cook, thus she gives the weed to Cook and tells him to run.