The Cook-Effy Relationship refers to the romantic pairing between James Cook and Effy Stonem.
Their relationship is sometimes referred to by the fan-given ship name, Ceffy (taken from Cook and Effy).
Their relationship is spanned throughout Series 3 and Series 4.
Relationship History
Series 3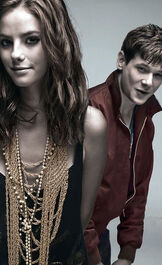 Effy's father drives her to her first day at Roundview College, but gets into a car accident after driving over a bike in the road. Effy waits silently while having her ciggarete in the car as her father engages in an argument with an elderly bystander, where she catches the eye of best friends Freddie, Cook and JJ. Effy and Freddie make eye contact again, but it is also apparent that Freddie's friend, JJ, is also interested in Effy when he mistakes her looks directed to Freddie for himself. Cook decides to joke around with Effy's dad, puts some ketchup on his face, and says he was hit by the car. Effy gets out of the car and takes some of the ketchup of his face and licks her finger, saying it tastes sweet. When Freddie attempts to engage in conversation with Effy at her locker, explaining that he'd like to get to know her, she warns him that his best friends Cook and JJ want the same, which will likely make things "complicated". She then gives him a list of all the things they're not supposed to do in school, and whoever -- Freddie, Cook, or JJ -- completes it first before the day's end, she'll grant an opportunity to "get to know".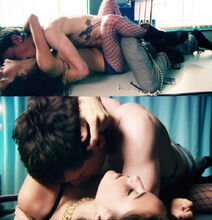 By the end of the day, Cook is the only one to have completed everything on the list Effy had given them earlier, with the exception of sex and drugs in school. Effy excuses herself to go the nurse's office, prompting Cook to follow, where they light up spliff and the two have sex.
In "Cook", the second episode of the series, Effy and best friend Pandora, as well as her new acquaintances from school Katie, Emily, and Naomi celebrate Cook's birthday party at a pub, where Cook's best friends Freddie and JJ are also present. Later on they manage to get into a posh party, where Effy goes into the bathroom and snorts drugs, but eventually they flee when a fight breaks out. When Cook proposes sex with Effy, she rejects him.
In the following episode, "Thomas", Effy's suspicions from the first episode are confirmed when she catches her mother post-coitus with her father's boss. She also helps new friend to the group Thomas sell drugs so that he may pay money off to gangster Johnny White. At the end of the episode its suggested that she and Cook have sex again.
In "Pandora" She has sex with Cook again, and afterward is confronted by Freddie for leaving JJ alone, prompting the disconcerted Effy to leave the party.
In "Freddie", Effy arrives in Freddie's garden and asks to be allowed into his shed. Inside, the two share a spliff, but are quickly joined by the arrival of Cook and JJ. When Cook invites Effy to leave to have sex with him, she sarcastically rebuffs him, causing him to angrily insist that she leave. By the end of the episode Effy has returned to Cook, and she and Cook watch from her bedroom window as Freddie watches from below.
In "Naomi", Effy observes Cook flirt in class, aware that he has sex with others, to which she has no objections. At the end of the episode she is seen celebrating Cook's win as class president.
In the next episode, "JJ", JJ finds the courage to go to Effy's home and confront her for severing his, Cook, and Freddie's friendship. Although he politely pleas her to stop, she apologetically cannot guarantee him that she will.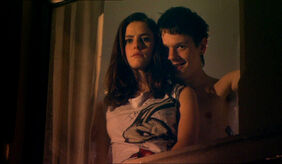 In "Effy", Effy is prepared to break up with Cook — which she does without informing him. Katie and Freddie plan a party at Gobbler's End, to which Cook is not invited. Effy finds shrooms at Gobbler's End and the friends indulge in them. After they have come down from their high, the uninvited Cook shows up, revealing that he followed them and is angry that he wasn't invited. After seeing that none of them want him there, he bitterly reveals several secrets the gang had been keeping from each other, including the fact that he and Pandora have apparently been sleeping together behind Effy's back (Effy only knew about the time at Pandora's party, and Cook had accidentally told Thomas when he was high). At the end of the episode, following her exile from the rest of the group, Effy wakes in a car driven by Cook, who doesn't know where they are or where they are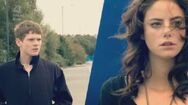 going - only that the two of them are going together.
It is learned in the finale that Cook has been bringing Effy to "one small, shitty town after another" for weeks, and Effy is becoming gradually more dissatisfied with this seemingly aimless wandering. Cook, however, tells her that this is the town where his father lives.
While Cook is content to end their journey here, Effy grows worried for Cook when she sees how his father manipulates him, prompting her to call Freddie for help.
When Freddie and JJ arrive, they decide that the fate of the boys' relationships with Effy should be decided by the small town's race. JJ, who wins the race, takes charge and demands that they solve their problems once and for all, forcing both boys to admit that they each love Effy and telling her that she must choose between them.
Although Effy doesn't say anything, her "look says it all" when her gaze lingers over Freddie, prompting Cook to leave in a fury. The following morning Effy, Freddie, Cook, and JJ begin their journey home.
Series 4
In "Emily", Cook sees Effy and Freddie kissing at the party and takes his anger out on a fellow party-goer and ends up headbutting JJ also.
In "Cook", Effy visits Cook in prison and tells him she loves Freddie. Cook pleads guilty at trial and is imprisoned.
In "Freddie", After Freddie clears the party out, Cook remains, having been released from jail prior to the beginning of the episode. However, when seeing him, Effy begins to freak out, yelling at him to leave. Later,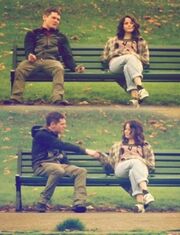 Freddie tries to follow a freaked out Effy who ran away from him, but loses sight of her in the large crowd, however he runs into Cook and asks him for help.
In "Effy", She runs into Cook and after an argument, Cook tells her that he would redo the last two years all over again, and that he still loves her.
Effy tells him to piss off and leaves. The next morning, she is at a park, and Cook sits on the bench next to her. As they are talking, Cook mentions that Freddie calls him about her (and calls her "Ef"). Effy looks confused, asking who "Ef" is. Cook thinks she's joking, and says that he's mistaken and that she isn't Ef. Effy smiles and tells him that he's right. Looking confused, Cook asks her what her name is, to which she replies "Elizabeth". Cook realizes that she doesn't remember anyone in the gang, so he reintroduces himself as James (his first name).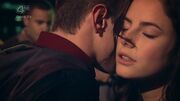 He takes her to a party, and they talk. Effy mentions that she normally doesn't go on a date with someone she just met. Cook goes along with it, not telling her that they have already met. She then tells him that she wants to do something bad, and Cook replies that she's come to the right person. As they walk down the street, they end up at the street where Tony got hit by a bus. Effy's memory begins to get jogged, and begins remembering. Cook, not understanding that Effy really didn't remember him, tells her that she wins (thinking it was a game). Effy is confused, but Cook tells her that they have met, dated, and had sex. Effy tries to it deny, but Cook brings up things only someone close to her would know.
Effy finally remembers her brother being hit, but she begins to freak out. She doesn't know what's wrong with her, not knowing if things did or didn't happen. Cook slaps her to "wake" her up, and Effy wants him to do it again. After pushing Cook, she runs off, with him chasing her. She runs into the freeway and gets almost hit by a car. Cook saves her and she kisses him.
In "Everyone", Cook is having sex with a Effy look-a-like, as he kept his promise to Freddie to back off. He clearly intends to honor his promise regardless of what happens; when he reads Freddie's notebook (filled with hundreds of variations of 'I love her' he weeps and whispers, "So do I, Freds- so do I" and gives the notebook to Effy rather than try anything.