"Tea" is the second episode of Season 1.
This episode primarily focuses on Tea Marvelli and how although she proclaims herself to be a lesbian, her strong connection with Tony Snyder confuses her, especially because she admits that he is the only one who has kept her interest (something all the girls she previously dated have not been able to do).
Tea goes to a lesbian nightclub "The Northern Soul", where she meets Betty, a girl from her class at school who's been using a clueless boyfriend to hide her preference for women. Tea eventually takes Betty home where the two have sex. After bedding Betty, Tea quickly loses interest in her. "We had sex. But I'm not looking for anything else," she says when Betty approaches Tea with a meaningful look in her eyes. "I don't want a relationship." "Why not?" asks Betty. "Because nobody matches up to me," says Tea.
Meanwhile, Stanley's worries over his debt to Mad Mao Le Dong intensify when Mad visits the school. Mad follows and then confronts Tea, threatening her and calling her a dyke (which Tea's father overhears but mistakes for the word kike; Tea is half Jewish on her mother's side).
At dinner that night, Tea manages to quiet down her big, loud, Italian and Jewish family for a moment. But before she can say anything, her pregnant sister's water breaks. So Tea retreats to her bedroom instead, to stare at her Audrey Hepburn poster and masturbate -- until her apparently senile grandma barges in and climbs into bed with her. "Something's wrong with me, Nana," Tea confesses. "I want the sex, but the girls I sleep with bore me. Is it too much to ask for someone to be interesting?"
By some mistake of fate, Tea ends up on a blind date with Tony. They both agree to it as a paid favor to their fathers, who are somehow involved in a mafia-like organization. Tony and Tea laugh about their weird luck, buy a bottle of vodka with the money they've earned, and swig it on a merry-go-round in a public park. But it's clear that Tony doesn't quite see their date as a joke. He pursues her, seeming almost resentful of how closed off she is: "You hold back. Nobody gets in. Mysterious." The words could almost as easily apply to him, and that's the point. That someone else could be so intelligent, unflappable and self-contained drives him crazy. When Tony tells Tea, "I can match you," he sounds like he's trying to convince himself of it, too.

Tea soon gives him the opportunity to try it. They go somewhere quiet and put on music. They dance, make out, have a tense, weird and silent stand-off -- and then they sleep together, even though Tea likes girls and Tony is dating Michelle. And, although he tells Tea, "I matched you. I matched you good," neither of them get what they want out of the encounter.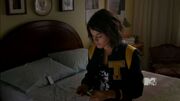 Sad and lonely, she crawls into bed with Nana. Although at first it seems the old woman is rambling incoherently, as usual, her monologue soon shapes itself into a heartbreaking story from her own youth. As a young woman, Nana fell in love with a woman, but their families pulled them apart: "They even gave us a name, so everybody knew what to hate. 'Lavender.' " she recalls. "They knew we loved each other. ... I heard she married a farmer in Wisconsin." Her tough shell is broken, and Tea dissolves into tears.
Later that night, Mad is then disposed of by Tea's father and his friends.
The next day at school, Betty marches up to Tea in the cafeteria and gives her a big kiss, as her boyfriend, his jock friends and a roomful of their classmates look on.
References